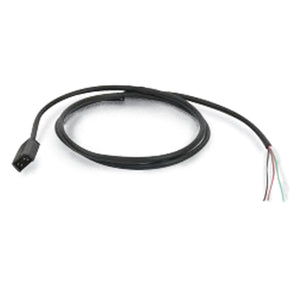 AS-HHGPS Handheld GPS Connection Kit
700030-1
$5999 CAD

$59.99 CAD

We have 2 in stock.
---
---
The AS HHGPS is a handheld GPS connection kit that connects your handheld GPS receiver to your fishing system control head via an additional NMEA data cable (data cable must be purchased from your Handheld GPS Receiver manufacturer).
Supported devices may include DSC VHF, Heading Sensors, GPS, and AIS devices.  Your Humminbird control head manual should be referenced to confirm which devices are supported.

The HHGPS cable is used to connect a RS-232 and NMEA 0183 devices to the GPS/NMEA port on a 300, 500, 600, 700, 800, 900, 1100, or HELIX Series.

This HHGPS cable requires a RS-232 or NMEA 0183 cable from the device's manufacture to complete the connection to the Humminbird control head.

Humminbird 700, 800, 900, 1100, HELIX 9, HELIX 10, and HELIX 12 control heads can supply power to the connected device.

Humminbird 300, 500, 600, HELIX 5, and HELIX 7 control heads do not supply power therefore the connected device must be externally powered.

The HHGPS Connection Kit Includes: NMEA connection cable and detailed instructions.

Note: this cable should not be used on an ONIX or ION unit.  For ONIX and ION Series, a AS GPS NMEA should be used.